Driving with your pet in the car may seem harmless, but the reality is that you put yourself, your animal and other motorists at risk. If you have your pet in the vehicle with you, your dog needs to be restrained for his own safety as well as to avoid increasing the risk of a dangerous accident.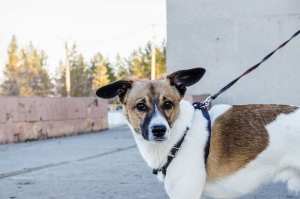 Pets can turn into projectiles if a collision occurs, and pets can also be a major distraction and increase the risk of an accident happening. If you are involved in a collision with someone who was distracted by a pet in the car, you should consult with a personal injury lawyer for information about making a car accident claim.
The Risks of Driving with Pets
AAA Pet Spot provides some important information about driving with a pet in the car. According to a survey of pet owners, 65 percent of pet owners who took their dog in their vehicle had engaged in at least one distracting behavior while their pet was in the car, although only 29 percent admitted they were distracted by the animal.
Distracting behaviors included petting their dog while driving, which 52 percent of respondents said they did. A total of 17 percent of drivers said they let their pet sit in their lap while operating their vehicle, and 13 percent said that they had given food or treats to their dog as they drove. Finally, four percent of drivers said that they had played with their dog as they were operating their vehicle.
When dogs go in the car, many of them are not restrained. A full 84 percent of survey respondents said that they had taken their dog on a variety of different car trips including running errands and going on leisure trips. Despite this, only 16 percent had any kind of pet restraint system that they used in their vehicle.
As Esurance points out, an unrestrained dog could not only be killed in a collision but could also seriously injure or kill others in the car at the time. A 10-pound dog that is not restrained could generate as much as 500 pounds of force if he is in a vehicle that crashes while the car is traveling at 50 miles-per-hour. If the dog weighs 80 pounds, the animal can generate 2,400 pounds of force even in a slow-moving crash where the vehicle is traveling only 30 miles per hour.
Drivers with pets need to be aware of these dangers. Keeping their animal restrained can both prevent distractions and ensure that a dog doesn't fly around a car when a crash happens. There are different types of pet restraints that can be used in the car including a pet crate and special pet seat belts. Human seat belts should not be used to try to restrain pets as this can be dangerous and ineffective.
Drivers who plan to travel with their pets need to be aware of the risks and should ensure they are taking precautions to keep their animals, and themselves, safe.
Call the Law Offices of Gary Martin Hays & Associates, P.C. at 1-800-898-HAYS or visit https://www.garymartinhays.com to schedule a free consultation.