April is Distracted Driving Awareness Month, and as part of a collaborative effort, the Georgia Trial Lawyers Association, the Georgia Department of Highway Safety and retired NBA player Shaquille O'Neal have teamed up to educate young drivers of the potential dangers.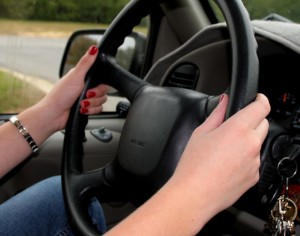 Distracted driving car accident lawyers in Atlanta believe this is an excellent time of year to drive home the point, given that graduation and summer break are right around the corner.
The "Ghost Out" program features a series of reenactments, speakers and presentations designed to let teen drivers at Georgia high schools know that every second they are distracted behind the wheel creates the potential for a fatal crash.
Study finds 1 in every 4 accidents involves cell phone use
According to the National Highway Traffic Safety Association, accidents involving distractions account for nearly half of all roadway fatalities, or about 5,000 annually. Distractions can also be blamed on approximately 450,000 injuries each year.
Another recent report from the National Safety Council indicates that 1 of every 4 wrecks can be attributed to cell phone use. Interestingly, only a small portion of those are blamed on text messaging, though teens are more prone to texting than other drivers.
What is especially scary about this revelation is the fact that most people don't view talking on the phone as being especially dangerous. This kind of faulty thinking is perpetuated by the fact that while all states have some form of text messaging ban, none ban talking on a phone for all drivers. What's more, none forbid hands-free cell phone devices, despite the fact that research has proven they are equally as dangerous as handheld devices.
In Georgia, all drivers are forbidden from text messaging, and it's considered a primary offense, meaning officers can pull over a driver solely for violation of this statute. However, only school bus drivers and those drivers under the age of 18 are banned from talking on a phone while driving.
Perhaps it's no wonder, then, that the latest NSC research found that 80 percent of drivers believe that hands-free cell phones are safer. This is despite the fact that more than 30 studies in recent years have proven that when it comes to the level of distraction, hands-free devices affect the brain the same way as handheld cell phones.
Research suggests driving distracted more dangerous than drunk driving
Here's another reality of which many teens may not be aware: Researchers with the University of Utah recently found that drivers who were using their cell phones actually had slower reaction times than those who had a blood-alcohol content of 0.08 percent. While it may take a drunk person hours to sober up, a person on a cell phone can immediately eliminate the risk by simply hanging up.
Meanwhile, those who drive drunk are hit with heavy fines and penalties, while those who are caught driving while distracted are treated far more leniently.
New drivers especially need to be taught that just because the law hasn't quite caught up with the research doesn't mean that talking or texting on a phone is any safer or better than driving drunk.
Traffic crashes are the No. 1 killer of teens in Georgia, claiming some 175 young lives in this state annually and injuring countless other young motorists.
Largely, these incidents are preventable. To learn more about initiating a Distracted Driving Family Contract with your teen, visit the the NSC's website here.
Call the Law Offices of Gary Martin Hays & Associates, P.C. at 1-800-898-HAYS to schedule a free consultation.