Early this July, a tragic accident occurred on I-75 in Georgia, when a pedestrian was hit by a car. Unfortunately, this lead to multiple vehicles becoming involved in a pile-up.  Conflicting reports indicate that there were between five and seven vehicles involved, while 11 Alive indicates that there were multiple people injured including at least one critical injury.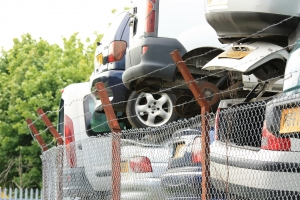 Our Atlanta accident lawyers know that multi-car pileups often raise many complex legal issues regarding who was to blame for the accident. In this case, however, the investigation of the crash has been further complicated by the fact that many drivers are alleged to have broken the law.
Multi-Car Pileup in Georgia Caused by Dangerous Choices
According to 11 Alive, the recent multi-car pileup occurred at approximately 4:30 in the morning on the fifth of July.  A pedestrian was on I-75 and was hit by a motorist. The pedestrian reportedly faces a charge of pedestrian in the roadway.
When the pedestrian was hit, multiple other vehicles also become involved in the accident as well. Multi-car pileups typically happen when other drivers come upon an accident scene and are not able to react in time to avoid becoming involved in the crash themselves. These accidents are more likely to happen when visibility is compromised, such as during bad weather or when it is dark out. If drivers are not paying attention or are impaired, then multi-car pileups are also more likely to occur.
An investigation into the accident has revealed that the pedestrian was not the only one who may have been breaking the law in a way that contributed to this multi-car pileup. Five of the drivers who were involved in the crash have reportedly been charged with driving under the influence (DUI) in relation to the accident.
These drivers may have been consuming alcohol to celebrate the Fourth of July, as this holiday is a popular drinking day each year, resulting in an annual increase in DUI accidents.  If law enforcement is able to prove that these drivers were over-the-legal limit, then the drivers could face jail time and other criminal penalties.
For accident victims involved in the crash, the multiple potential drunk drivers coupled with the fact that a pedestrian started the chain of events raises many different complications. Those involved in a car wreck or pedestrian accident may normally take legal action against the person who was responsible for causing the wreck to occur. In this case, there may have been lots of drivers engaged in dangerous or risky behavior who could potentially be liable for damages.
In cases where it is unclear how an accident happened, law enforcement will generally conduct an investigation to try to get to the bottom of the issue.  Injured accident victims who wish to pursue legal claims for damages may also consider working with an accident reconstruction expert who can evaluate evidence and help them to recreate the timeline for the crash to shed light on who was at fault.
If you have been injured in an Atlanta car accident, contact Gary Martin Hays & Associates at 1-800-898-HAYS.