According to My Fox Atlanta, a car accident in mid-July resulted in three deaths and six injuries after several cars were pinned beneath a tractor-trailer.  The accident occurred at approximately 1:00 a.m. on Friday night and involved the tractor-trailer as well as a pick-up truck, a Jeep and a Ford Escape.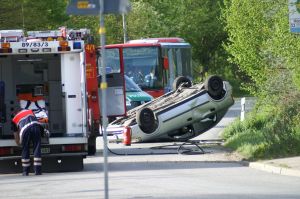 Reports from the initial investigation conducted by the police indicated that the crash may have started after the pickup truck made a left turn and collided with the tractor-trailer, which was going in the opposite direction.  The tractor-trailer rolled over in the accident, pinning two cars beneath it.  Our Atlanta truck accident lawyers know that whenever a truck is involved in an accident, rollovers are likely to occur. Unfortunately, these rollovers can be extremely dangerous or even deadly, especially when vehicles are in close proximity at a busy intersection.
Drivers Involved in Tractor-Trailer Crash
The accident took place in Georgia Highway 365 in Gainesville, closing northbound lanes on Highway 364 for almost nine hours.  It allegedly began when the pickup truck driver turned left into the path of the truck.  The tractor-trailer was carrying frozen chicken products.
The driver of the pickup truck that collided with the tractor-trailer was killed. The passenger in his pickup truck was also killed.  Two other vehicles subsequently became involved in the crash, becoming pinned under the tractor trailer when the accident caused it to roll over.
Tractor-trailers, like all trucks, have a high center of gravity. This can make the trucks more likely to roll over, especially when drivers are speeding, going around curves or- as in this case- involved in an accident.  Factors such as a heavy or unbalanced loads can also make a tractor trailer more likely to flip over, although there is no reported evidence at this time indicating that the tractor trailer here was not correctly loaded.
Unfortunately, when trucks and tractor-trailers do roll over, it is not uncommon for cars to be pinned underneath.  These vehicles tend to be very large and when they tip, any other cars in close proximity could become caught underneath. This could do devastating damage to the vehicle and potentially cause serious or fatal injury to all drivers and passengers involved.
In this case, the accident happened at a very busy intersection, which meant that it was even more likely that cars would end up being crushed by the rollover. When vehicles are in close proximity with no place to go, the chances are high that a truck rolling over will endanger them.
For those who were affected by the rollover and who sustained injury, it may be possible to take legal action. In this case, it was the tractor-trailer that caused injury.
However, the underlying crash may have been caused by the pickup driver and the tractor-trailer driver may have done nothing wrong. This means that there are complicated issues of liability regarding who is to blame. Potential defendants in an injury lawsuit could include the pedestrian, the pickup driver, the tractor-trailer driver or the company that employs the tractor-trailer driver. But injured victims will need to show that something went wrong or that the defendant was negligent in order for the victim to be compensated.
If you have been injured in an Atlanta truck accident, contact Gary Martin Hays & Associates at 1-800-898-HAYS.